The brand new holiday villas at De Groote Duynen park in Zeeland are within a walking distance (only 500 meters) of the Banjaard beach and the Veerse Meer. The connection with the adjacent nature reserve De Schotsman gives a special dimension to this place. Here you will not find a pretentious hotspot, but a place to completely unwind. Far away from the crowd, located between the North Sea, Oosterschelde National Park and the Veerse Meer, you will experience the ultimate holiday feeling.
Search & Book
2 guests
+ 0 babies
+ 0 pets
Select a stay period
Refine your search:
Staying at De Groote Duynen
The design villas situated in the dune landscape are situated on a water feature and often have a panoramic view of the adjacent polder landscape. The 4, 6, - and 8 person villas are tastefully and luxuriously furnished and are all equipped with a gas fireplace. The wellness villas have a Finnish- or infrared sauna. Some holiday villas are also equipped with a charging station for recharging electric cars. The child-friendly villas have a high chair, cot and stair gate. Some villas even offer the possibility to completely close off the terrace. Would you like to take your four-legged friend with you on holiday? That is also possible at De Groote Duynen. In many of the holiday villas your dog is welcome. At only a few minutes walking distance you can reach the North Sea beach the Banjaard or the popular Veerse Meer. The unique location of the holiday park, surrounded by nature and water, makes this place an ideal holiday spot for water sports enthusiasts, families and dog owners. Now also bookable with your own beach house!
Below you can see the map of De Groote Duynen including the numbers of the villas that are rented out by Z'ANDvillas. Duinvallei 21 is the 'Guest & owner service point', our reception at the park.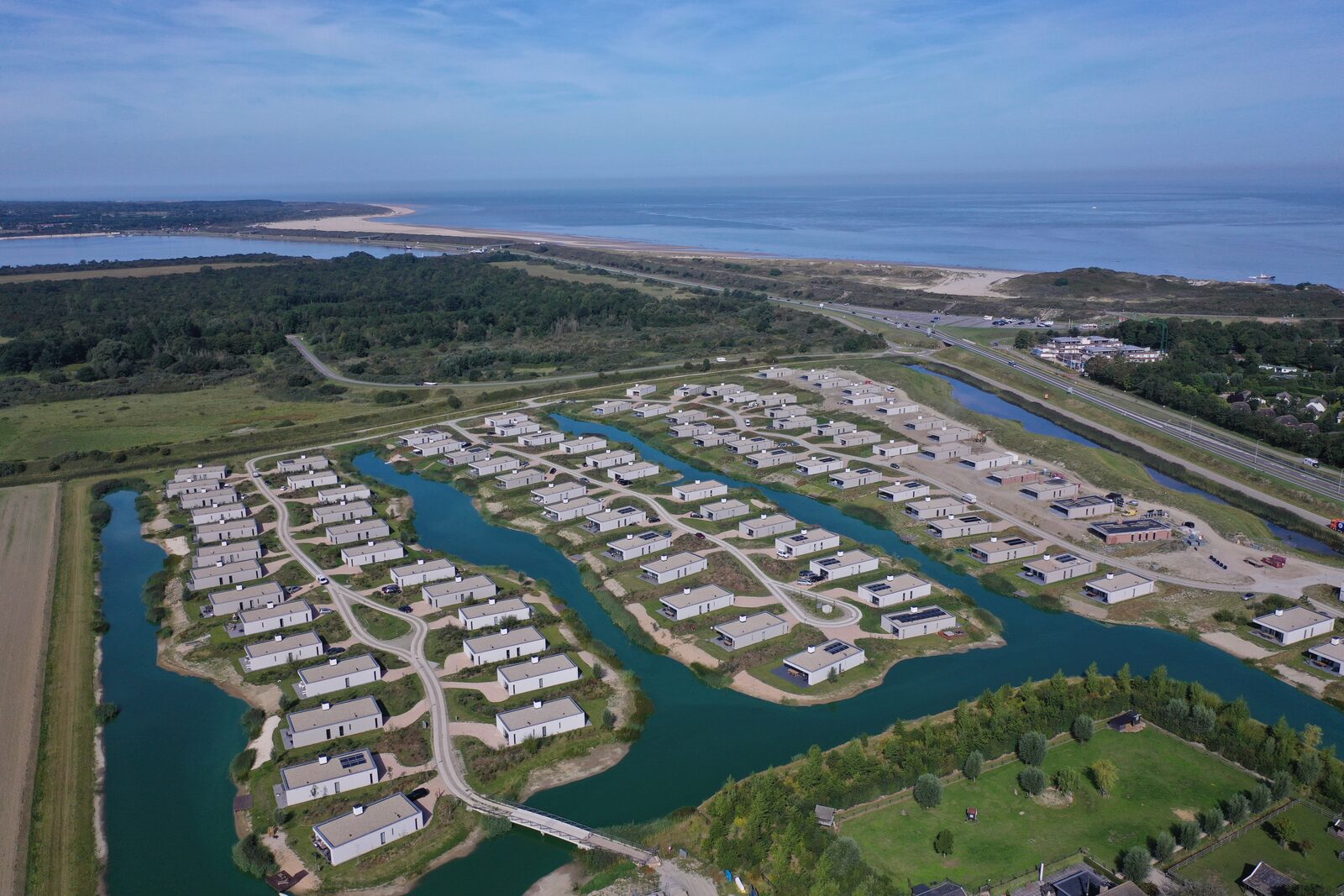 The surroundings of De Groote Duynen
The sea
It is for many the main reason for a visit to Zeeland and our great pride; the sea. Whether you are looking for a holiday where you can relax and relax and recharge in peace or if you are looking for fun activities, it is possible in Zeeland. A stone's throw from holiday park De Groote Duynen is the Banjaardstrand, a beautiful and typical Zeeland beach which is also annually voted one of the cleanest beaches in the Netherlands. In this region, most hours of sunshine in the Netherlands and Zeeland can also be measured. The accessibility of this beach is also of paramount importance. From wheelchair to pram: the Banjaard beach is accessible to everyone.
The Veerse Meer
In addition, the Veerse Meer (Veerse lake) is within walking distance of De Groote Duynen. On this unique lake there are plenty of opportunities for water sports enthusiasts, such as windsurfing or water skiing, but you can also moor by boat on one of the many uninhabited islands. On these islands you can stand eye to eye with animals such as fallow deer and wild horses. The Veerse Meer is ideal for families with young children, who can safely enjoy the water thanks to the shallow water. Of course you can also moor at one of the characteristic villages on the Veerse Meer, such as Veere, Kortgene or Kamperland and Zeeland in a unique way.
The country
De Groote Duynen is located in the middle of untouched nature. Next to De Groote Duynen you can find nature reserve De Schotsman. In this area you will find dunes and grassland, but also extensive forest areas. These forests are known among bird lovers, but walking you can also come face to face with rabbits, deer and even foxes. In this beautiful area it is also allowed to walk with your dog.
View the location of De Groote Duynen
Holidays at De Groote Duynen
De Groote Duynen has 75 brand new holiday homes and various facilities. Each holiday villa is equipped with a gas fireplace. Are you looking for a cottage for your family? All holiday homes are suitable for a minimum of 4 persons. So do you want to enjoy a wonderful holiday in Zeeland with your family? Take a look at our selection of holiday villas for 4 persons. But also for larger groups, the range of holiday villas is enormous. You can rent holiday villas for 6 persons and there are many holiday villas for 8 persons for rent.  
Take your dog to De Groote Duynen
In many holiday villas at De Groote Duynen you can take your dog with you! It is of course wonderful to be able to take your dog with you on holiday to Zeeland. The Banjaard beach is within walking distance of the park, ideal if you want to get a breath of fresh air. Moreover, it keeps you and your dog in motion. For a change, you can also take your dog for a walk along the Veerse Meer. Lake Veere is also within walking distance of the park. View the range of holiday villas on De Groote Duynen where dogs are allowed. 
Rent a holiday villa at De Groote Duynen
Renting a holiday villa at De Groote Duynen is possible in many groups. You can rent a holiday villa with your family of 4 or 6 persons. Larger groups of up to 8 people can also rent a holiday villa. Take a look at the possibilities through our Search & Book system and refine your search according to your wishes! Renting a holiday villa on our holiday park is just a few clicks away!  
More information about rental possibilities at De Groote Duynen?
Do you have any questions or would you like to know more about renting a holiday home at De Groote Duynen? Then please contact one of the employees of Ruiterplaat Vakanties. This can be done by telephone, e-mail or using the contact form on our contact page.